The Costly Compromise of Short-Lived Roofs
When it comes to your repairs and upgrades to your home, durability and long-term value must be top priorities. A roof is one of the most vital components of your property, and its longevity can have a significant impact on your investment. In this blog post, we'll explore how an asphalt roof – with a mere 12-year average lifespan – can lead to unnecessary costs and frustration. We'll introduce you to Hy-Grade Steel Roofing, a game-changer in the industry, and delve into the advantages of our steel roofing systems that are not only warrantied for 50 years but designed to last much longer.
Guaranteed for 50 years or more, our roofs save you money long-term.
Say goodbye to frequent roof replacements and hello to long-lasting protection. With Hy-Grade, your new roof is guaranteed leakproof for at least 50 years, providing unrivaled durability and peace of mind. Our steel roofs last at least four times longer than asphalt roofs, which typically require repairs every 12 years.
That's right! The lifespan of one Hy-Grade Steel Roof is equal to at least 4 asphalt roofs!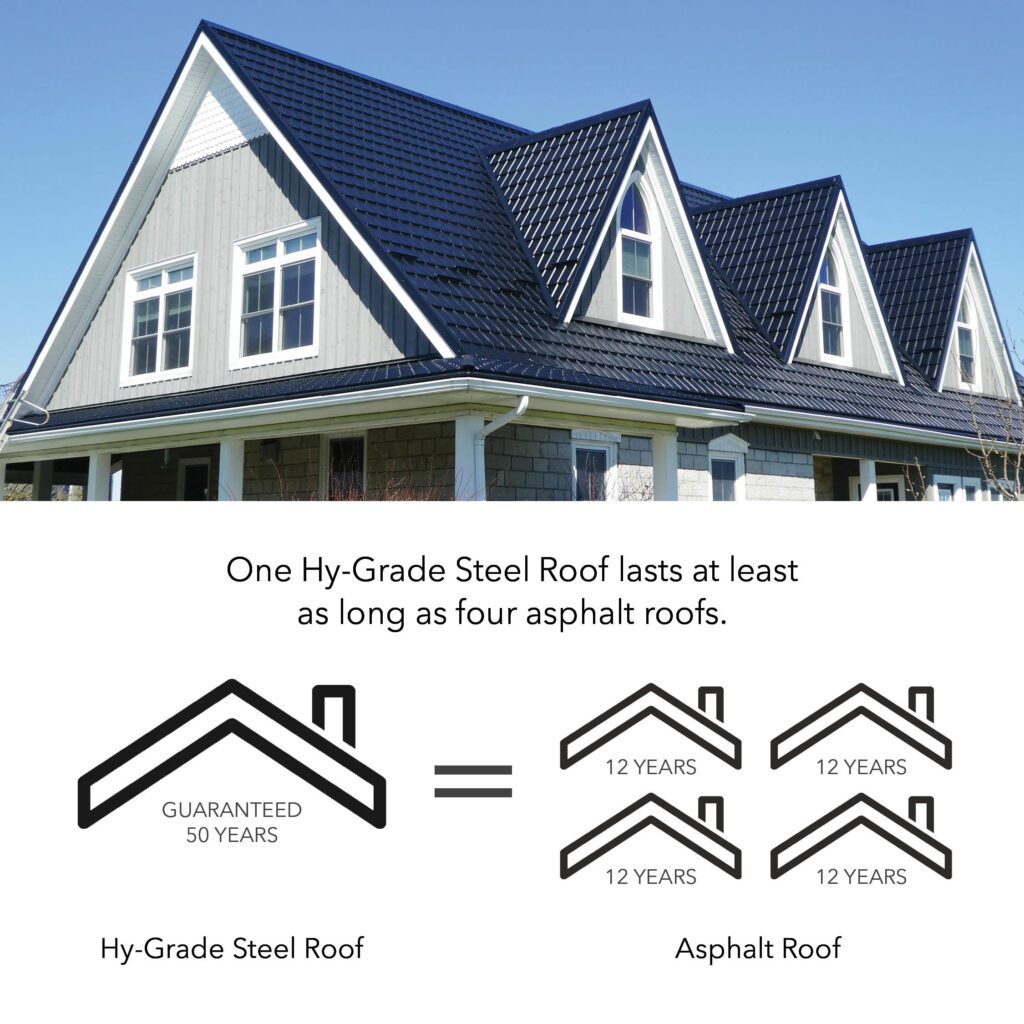 The Changing Climate and Your Roof
In recent years, discussions about climate change* have become more prevalent. It's essential to recognize that climate change can have a detrimental impact on the lifespan of traditional asphalt roofs. With the increasing occurrence of extreme weather events, including wildfires, and hurricanes, your asphalt roof is facing more challenges than ever before. The stress of rapidly fluctuating temperatures, heavy rains, and strong winds can lead to premature aging and costly leaks. The consequence? Frequent repairs and replacements, a never-ending cycle of expenses, and a heavier environmental footprint.
*According to the National Oceanic and Atmospheric Administration (NOAA), the frequency and intensity of extreme weather events are increasing due to climate change. This can have adverse effects on the longevity of traditional roofing materials.
The Steel Solution: Weathering the Storm
Hy-Grade Steel Roofing offers a stark contrast to this scenario. Our steel roofs are built to withstand the harshest weather conditions, from heavy snow loads to torrential rains and high winds. These roofs have a proven* track record of weather resistance, often exceeding their 50-year warranty. In fact, many of our customers report their roofs looking and performing as good as new after decades of service.
*Based on internal customer surveys, Hy-Grade Steel Roofs often last well beyond their 50-year warranty period, and some are still in excellent condition even after 60 or 70 years.
Hy-Grade Steel Roofing: More Affordable Than You Think
Financing Your Steel Roof Investment
We understand that investing in a steel roof is a substantial financial commitment, especially in an environment with rising interest rates. However, we have a solution to make this investment affordable, bridging the gap between now and mortgage renewal or drawdowns from investments, such as during tax season.
Mortgage Renewal and Investment Drawdowns
Are you concerned about how you can finance your steel roof without breaking the bank? It's essential to recognize the value a steel roof brings to your home. By installing a durable and long-lasting roof, you're not only safeguarding your investment but also increasing your property's value. This is where financing can be a game-changer.
Affordable Financing Options
At Hy-Grade Steel Roofing, we offer competitive financing options designed to fit your budget. These options are customizable and flexible, ensuring that you can find a payment plan that suits your needs. This means you can start enjoying the benefits of your steel roof immediately, without the financial strain.
Beating the Interest Rate Hurdle
In a landscape of rising interest rates, the challenge of finding affordable financing becomes even more pressing. The good news is that with our financing solutions, you can secure your steel roof at a reasonable cost and lock in a lower interest rate, providing financial stability in a turbulent market.
In conclusion, the key to unlocking long-term value in your home lies in the choice of your roof. While asphalt roofs struggle to keep up with the changing climate, steel roofs from Hy-Grade prove to be a lasting solution. With affordable financing options, you can overcome the challenge of rising interest rates and secure your home's future. Choose a Hy-Grade steel roof and invest in durability, sustainability, and long-term value for your property.
Winner of the 2023 & 2024 Consumer Choice Award for Metal Roofing
Trust is at the core of our business. We're honoured to be the recipient of the prestigious 2023 and 2024 Consumer Choice Award.
Since 1988, we've built a solid reputation by installing over 18,000 steel roofs across Ontario. Our commitment to transparency is reflected in our warranties – no hidden fees, no fine print.
Get Started Today
Don't wait until the next storm exposes the weaknesses of your current roof. Contact us toll-free at 1-855-494-7233 to learn how we can help you make the transition to a Hy-Grade Steel Roofing system, ensuring your peace of mind and long-term value for your home.