The Simplest Steel Roof Warranty on the Market
At Hy-Grade Steel Roofing, our comprehensive warranty provides you with peace of mind that your e is protected. Our warranty is exactly what we say it is; no hidden fees, no deductibles, no fine print. Guaranteed.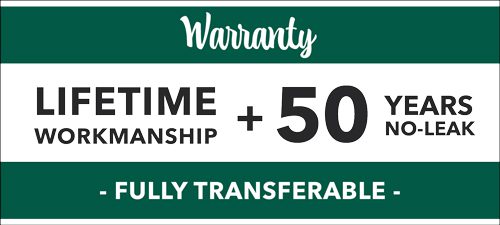 Lifetime Workmanship Warranty
At Hy-Grade Roofing, we provide personalized service and support to our customers to ensure they are completely satisfied with our work.
You can trust our skilled Roofing Consultants and Installers to deliver high-quality workmanship
Every roof is inspected by a trained Hy-Grade Steel Roofing Quality Control technician after installation to ensure our high standards have been met
50-Year No-Leak Steel Roof Warranty
Our 50-Year No-Leak, No-Rust Roof Warranty covers your entire roofing system, including all metal roofing components, accessories, and installation workmanship.
Don't worry about leaks or rust for at least the next 50 years!
No deductible or hidden fees
A Promise Made is a Promise Kept
Your Hy-Grade Steel Roof is backed by a lifetime workmanship and 50-year no-leak warranties. If you need assistance with your roof and need to reach our Service Department, please click the button below and complete the form. Our Service Department will contact you as soon as possible.
Transferable Roof Warranty
Enjoy the flexibility of our transferable warranties, allowing you to pass them on to the next homeowner if you sell your home.
When there is a change of ownership, the new owners must notify Hy-Grade in writing within 30 days of taking possession to be eligible for the balance of the warranty.
Increase the resale value of your home
Pass on the same peace of mind and protection
No limits on transfers; subsequent owners can also transfer the warranty
Contact Us for a No-Obligation Quote
We're committed to providing our customers with the best roofing solutions and service. Contact us today to learn more about how we can help protect your home with our reliable and comprehensive warranty coverage.
The Company Behind The Warranty
Your Hy-Grade Steel Roofing warranty is backed by a long-standing company with an impeccable reputation. We believe that a promise made is a promise kept.

Hy-Grade has been in business since 1988 under the same name and owner. That's over 34 years proving our commitment to growth and lasting quality. We're not just a business, Hy-Grade is a family legacy. Currently managed by both the founder and the first generation of family, Hy-Grade has a succession plan in place. Just like family, you can be sure that we will be here to honour your Hy-Grade Steel Roofing Warranty for generations to come.