Hurricane Lee and Climate Change Impacts: Is Your Home Ready?
Picture this: Hurricane Lee is bearing down on your house, its roaring winds threatening to tear through everything in its path. Climate change's wrath is knocking at your door, and the fear of devastation looms heavy. But in this tale of resilience and hope, there's a shining beacon of protection. We present to you Hy-Grade's unique Steel Roofing System – the ultimate wind resistance superhero for your roof.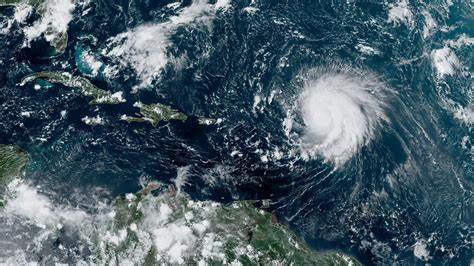 Hurricane Lee makes its way up the Atlantic Ocean, headed directly for the Maritime provinces. With high winds of 185 km/hr at its peak, extensive property damage is expected.
This satellite image provided by the National Oceanographic and Atmospheric Administration shows Hurricane Lee, right, in the Atlantic Ocean on Friday, Sept. 8, 2023, at 4:50 p.m. EDT. THE ASSOCIATED PRESS
As our planet faces the relentless onslaught of climate change, extreme weather events like Hurricane Lee are becoming more frequent and fearsome. It's a reality we can't afford to ignore any longer.
As we witness the devastating impacts of climate change unfolding before our eyes, its understandable that people might begin to feel anxious. Our homes – our sanctuaries – are at risk. The threat of wind damage during intense storms like Hurricane Lee is all too real, even for those of us not directly in its path.

"By Sunday, Lee was forecast to weaken into a tropical storm and likely make landfall in Nova Scotia, Canada, according to AccuWeather. "A significant storm surge will occur along with the strongest winds and risk of property damage," AccuWeather said in a statement. Winds and flooding also are expected to affect Rhode Island, eastern Massachusetts, southeastern New Hampshire and central and coastal Maine, forecasters said." – National Post, Sept. 12, 2023
The Power of Resilience: A Beacon of Hope
Hy-Grade's unique socket and fastener system, driven by relentless innovation and engineering, has been tested again and again. Simply put: our roofs stay put. Most steel roofing applications use traditional screws, which can easily be pulled out during high winds as the socket is stressed by the screw threads. In contrast, Hy-Grade Steel Roofs utilize galvanized nails, practically eliminating this friction. Our nails grip your roof with an unyielding resolve, ensuring your home stays intact. Even high winds brought by tropical storms can't pull our roofs off.
Tested to the Limits
We don't make claims lightly. Our roofing system's resilience has been tested and proven under the harshest conditions. We enlisted the expertise of a third party to conduct water infiltration tests under wind-driven rain conditions. The results? Nothing short of astounding.
Our roofs are impervious to leaks, damage, or failure at wind speeds of up to 100 km/h. Even when Hurricane Lee and its counterparts come knocking at your door, our roofing system stands as a fortress of wind resistance. Winds between 100-170 km/h may attempt to provoke slight pulling and 'slow leakage,' but they'll be met with unwavering resistance. In other words, even Hurricane Lee can't pull this roof off your house.
| | | |
| --- | --- | --- |
| Wind Speed (km/h) | Duration (Min) | Result |
| 80 | 5 | No leakage, damage or failure |
| 100 | 5 | No leakage, damage or failure |
| 125 | 5 | Slow leakage, no damage or failure |
| 142 | 5 | Slow leakage, no damage or failure |
| 170 | 5 | Slow leakage, no damage or failure |
Dynamic Water Infiltration Test (200 mm/h rain)
Three conditions need to be met simultaneously for leakage to occur: water on the surface, an energy force (gravity, wind pressure, kinetic or capillary), and a leakage path. The HGR System was tested for water infiltration.
Average wind speed in a thunder storm is 80-95 km/hr. Ontario experiences approximately 34 days with thunder storms each year.
A Shield Against Climate Change
Picture this: as Hurricane Lee howls and rages outside, your home stands as a symbol of resilience. You're safe, your loved ones are secure, and your property is intact. It's not just about weathering the storm; it's about emerging unscathed, ready to face the future.
In the battle against climate change, your home's roof is the front line of defense. Our fastener system is your unyielding shield, standing strong against the tempestuous winds of change. With Hy-Grade, you're not just investing in a roof; you're investing in peace of mind.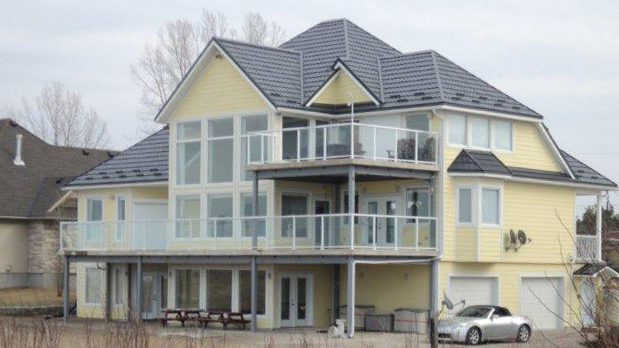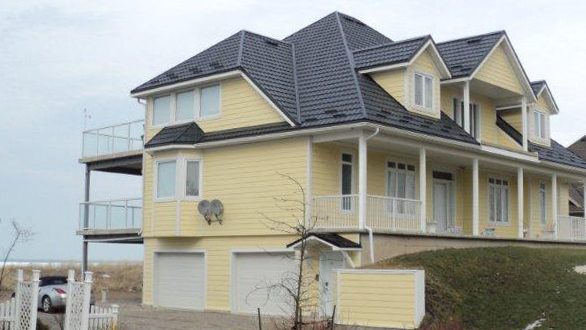 Conclusion: A Future of Hope
As we confront the harsh reality of climate change, we must also embrace the hope that comes with resilience. Hy-Grade's Steel Roofing System, with its unparalleled wind resistance and a 50-year no-leak warranty, ensures your home remains steadfast in the face of nature's fury.
The climate crisis may be uavoidable, but with the right solutions, we can find protection from its effects. Our roofing system is not just a product; it's a promise – a promise to protect your home, your loved ones, and your peace of mind. In the battle against climate change, let Hy-Grade be your unwavering ally.
Together, we'll build a future where your home stands as a symbol of resilience, a testament to human innovation, and a sanctuary of hope in the face of adversity.