Why Hy-Grade Steel Roofing Chose PVC Coating
The Future of Roofing Coatings is Hy-Grade's PVC
When it comes to choosing the perfect coating for your steel roof, it's easy to get lost in the sea of options available. However, at Hy-Grade, we believe that the answer is crystal clear – our revolutionary PVC coating. While other choices exist, our focus is firmly on the remarkable benefits of PVC-coated steel roofs, offering unparalleled longevity, aesthetics, and value.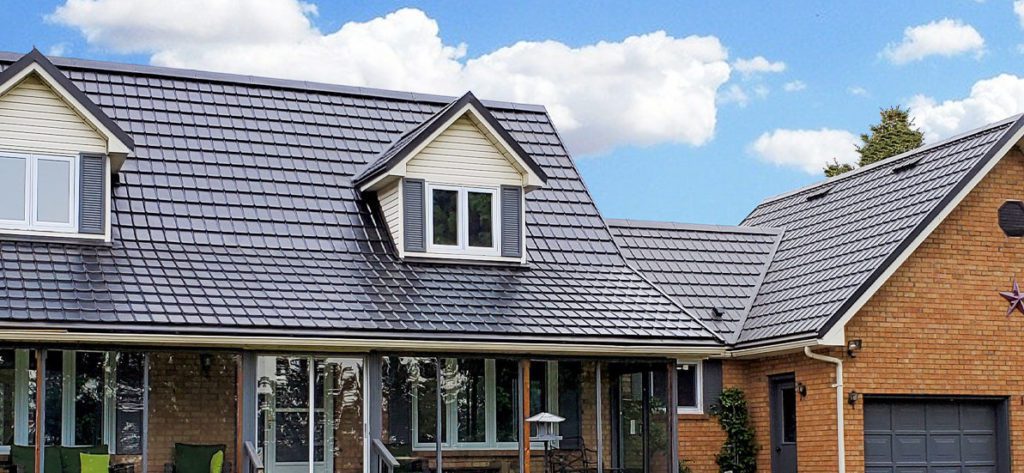 Unveiling the Limitless Potential of PVC
Hy-Grade didn't take the decision to coat its engineered steel roof shakes lightly. We understand that the choice of coating can make or break your roofing experience. Opting for no coating or subpar alternatives can lead to a weathered, unattractive appearance, often within a short time. Stainless steel shakes, while durable, can be prohibitively expensive, making them unrealistic for most Canadian homeowners.
With unpainted steel shakes ruled out, let's dive into the available coating options: paint, stone/grit, and PVC.
Paint – A Cautionary Tale
In the past, Hy-Grade Steel Roofing shakes were painted. However, we quickly encountered a slew of issues, including excessive fading, peeling (delamination), and cracking. Ontario's extreme temperature fluctuations exert too much stress on paint coatings due to metal expansion and contraction. While we have successfully resolved these issues for our customers, painted metal roofs remain a risky choice for those seeking long-lasting roofing solutions.
Stone/Grit – More Trouble than It's Worth
Stone or grit coatings aim to mimic the appearance of asphalt shingles, but they come with their own set of problems. These coatings retain water, mold, and debris, causing headaches for homeowners, contractors, and manufacturers alike. It's believed that the epoxy holding the stone/grit to the metal surface deteriorates due to UV radiation and the stress caused by metal's expansion and contraction in response to temperature extremes.
PVC – The Game Changer
Now, let's turn our attention to the star of the show – PVC, or polyvinyl chloride. You've probably encountered PVC coatings on chain link fences or hand tool handles. One thing you might have noticed is the remarkable flexibility of PVC, allowing it to expand and contract seamlessly with Hy-Grade's engineered steel shakes during Ontario's temperature extremes, all without cracking or peeling.
Hy-Grade's PVC-based plastisol coatings are four mils thick, providing unparalleled protection from UV rays and unbeatable resistance to scratching, fading, chalking, peeling, and cracking. Our 26-gauge galvanized steel shakes come in seven exquisite colours, ensuring your roof looks perfect for decades, giving you the peace of mind that comes with a worry-free, permanent steel roofing system.
Hy-Grade Steel Roofs are available in seven popular colours to match any home's exterior:
Trust in Our Experience
Hy-Grade has been a trusted name in the industry since 1988, and we've learned invaluable lessons through trial and error, so you don't have to. Today, we proudly use a PVC-based coating to offer the best in longevity, aesthetics, and value.
Don't take chances when it comes to your roof – book your free, no-obligation consultation and quote with your local Roofing Consultant to discover why a Hy-Grade Steel Roof is Your 1st Choice for Your LAST Roof!