7 Questions We Get Asked All the Time About Steel Roofs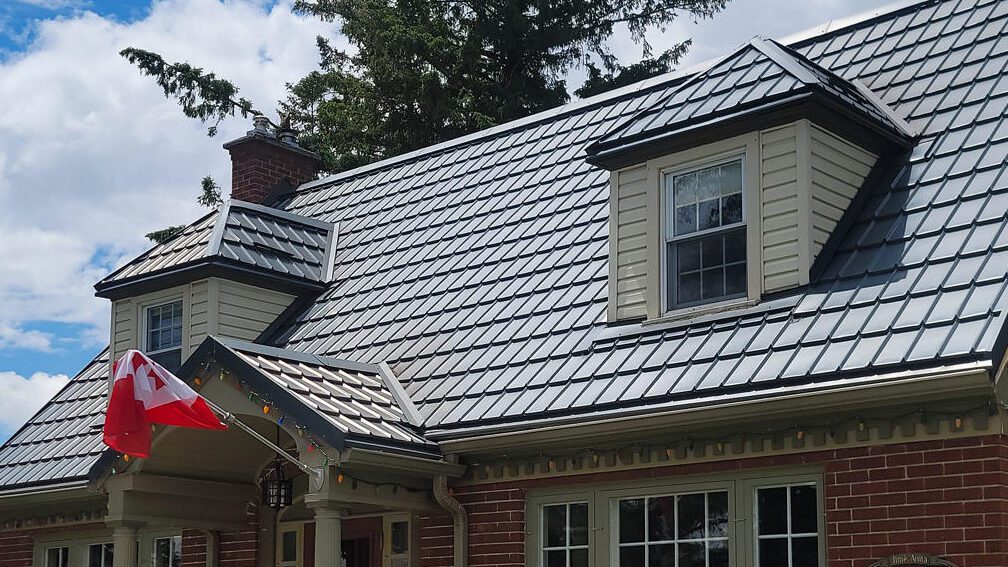 Are you considering a metal roofing system for your home but have concerns and questions? Hy-Grade, a trusted provider with over 30 years of experience, has been asked it all when it comes to metal roofs. From worries about rust and noise to affordability, we're here to set the record straight. Most of these questions stem from outdated information, often associated with the "barn steel" roofs popular decades ago. Hy-Grade's unique shake design, specifically engineered for Ontario's extreme temperatures, bears no resemblance to those old roofs.
Let's dive into the facts and address these questions. (Click on a question to go straight to the answer down the page.)
By far though, the one we hear almost every day is:
Now, let's get to answering these common questions about steel roofs.
1. Will a Hy-Grade Steel Roof Rust?
Hy-Grade Steel Roofs are rust-resistant. They're made from double-galvanized, PVC-coated steel, materials generally resistant to rust. Galvanization involves applying a protective zinc coating to the steel, which acts as a barrier against corrosion. This process significantly enhances the steel's durability and resistance to rusting. Additionally, the PVC coating provides another layer of protection, further shielding the galvanized steel from moisture and external elements. PVC forms a durable, waterproof barrier that helps prevent water penetration and inhibits the formation of rust on the galvanized steel surface.
2. Can You Really Walk on a Steel Roof?
Yes and no. It's true that you probably can't walk on some metal roofs like aluminum – they're just too thin – Hy-Grade's steel shake is designed with a strong flat section and connected with ribs. These ribs, which you should NOT walk on, provide strength for the flat areas of the shake which you definitely CAN walk on. Extreme care should always be taken when walking on a Hy-Grade Steel Roof. If the roof is too steep, or it's raining outside, it's best to stay off.
3. Do Steel Roofs Attract Lightning?
Steel roofs, including Hy-Grade Steel Roofs, do not attract lightning. In fact, the absence of lightning rods on Hy-Grade roofs is a testament to this. Unlike materials that are combustible or grounded, steel roofs are not susceptible to attracting lightning strikes. Lightning typically targets the highest point in an area, which is unlikely to be a residential home's roof. However, even if there is a small chance that your steel roof is the highest point, Hy-Grade's metal roof is designed to disperse any electrical charge if struck by lightning. In such a scenario, you would likely not even be aware of it happening unless accompanied by the resulting thunderclap. So rest assured, Hy-Grade Steel Roofs offer protection against lightning without being a magnet for it.
4. Are Steel Roofs Noisier Than Asphalt?
Hy-Grade's Steel Roofing System is affixed to your house using double roof strapping. Our strapping is made with 1 x 3″ spruce, a naturally absorbent material. This creates a 2 to 3-inch gap between your roof deck and the steel roof. Because of this gap, sound is dispersed and may even be absorbed.
"…It was one of my concerns with this type of roof, whether it would make more noise during rainfall… but in actual fact, I would say it makes less noise".

-Father Martin Vallely (formerly of) Blessed Sacrament Catholic Church, Kitchener, ON.
5. Can Steel Roofs Withstand High Winds?
The way Hy-Grade's shakes are attached to the wood roof strapping system creates downward pressure that resists lifting. The large upper centre window on the yellow house (covered in white wood, shown below) was blown out by extreme winds directly off Lake Huron. Despite these winds, not a single Hy-Grade steel shake was lifted! The Hy-Grade Steel Roof warranty covers damage from sustained winds up to 120 km/h; just under Category 1 hurricane force, a level recorded only once in Ontario's history.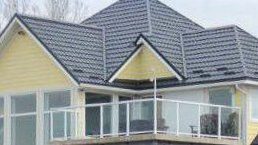 Heavy winds on Lake Huron blew out a window on this house, while the Hy-Grade Steel Roof remained completely intact. Not a single steel shake was lifted or removed.
6. Are Steel Roofs Energy Efficient?
Hy-Grade uses double roof strapping which creates something called "Above Sheathing Ventilation" (ASV). According to a study by the U.S. Department of Energy: Buildings Technology Program, conducted at the Oak Ridge National Laboratory in Tennessee, ASV can save you up to 30% on your annual energy bills. This is because the 2 to 3″ gap created by the roof strapping allows for ventilation, which in turn helps regulate the temperature in your attic. Customers often tell us their attic was cooler in summer after their Hy-Grade Steel Roof installation. Even Hy-Grade's black coloured shakes afford as much seasonal cooling load as so called "cool colour" metal attached directly to the roof deck even through a membrane. Moreover, any company that claims their roof is Energy Star rated in Canada is mistaken at best, and completely deceptive at worst as no roofs in Canada are eligible for Energy Star.
And, finally, the most common question we get asked…
7. Can I afford a Hy-Grade Steel Roof?
This couldn't be further from the truth. For those of you who have purchased asphalt roofs before, you know how their useful lives have grown shorter: Your first asphalt roof might have lasted 40+ years. We strap over shingled roofs as few as 5 years old on a routine basis, much to the dismay of the owners who thought they bought a "30-year" shingle. Click here to learn more about this.
With the average life now of around 12 years, you'll buy four asphalt roofs before your Hy-Grade warranty even expires, and that's about half of what we believe its effective life will be. Multiply the cost of asphalt by four, or more, and you'll quickly determine a steel roofing system from Hy-Grade makes the most affordable choice as your 1st choice for your last roof.
CONTACT HY-GRADE STEEL ROOFING SYSTEM FOR YOUR NO COST—NO OBLIGATION ASSESSMENT OF YOUR ROOFING NEEDS. GIVE US A CALL AT 1 (855) 494 7233 OR CLICK HERE TO FILL OUT OUR ONLINE FORM!