Why Do You Use "Double Roof Strapping" on Steel Roof Installations?
Hy-Grade has evaluated outcomes with no roof strapping, single strapping and double roof strapping. We choose to DOUBLE STRAP.

"Double strapping" a roof for metal shakes, refers to adding horizontal and vertical wooden supports to your existing roof; these supports are then used to fasten the new steel roof and provide much-needed ventilation between the old and new roof material. Most roofs, like asphalt, are attached directly to the roof with no strapping; they employ either felt paper or a membrane. Others use single or double-strapping. Hy-Grade Steel Roofs are always installed with double strapping.
To understand why, let's take a look at the options:
POOR: Felt Paper Base
Using felt paper as the base layer for roofs is the worst possible option. While it might offer a temporary barrier against moisture, felt paper lacks durability, rendering it highly susceptible to damage from weather. Over time, it tends to deteriorate, leading to leaks and subsequent structural issues. Additionally, felt paper does not insulate, causing energy inefficiency and higher utility bills. As well, its installation process is labour-intensive and time-consuming, leading to increased costs.
Luckily, few roofing companies use felt paper anymore.
Drawbacks of Felt Paper: The Inferior Choice for Roofing Installations
GOOD: A Roof with No Strapping
Without strapping you're left using a membrane directly on the roof deck. This membrane protects against the condensation that inevitably occurs due to lack of airflow under the system. Condensation happens when the warmer air above the roof decking, warmed from the attic space below, meets the cooler metal roof. The moisture in the air in between these two layers condenses due to the temperature difference (at the dew point). The membrane is used to try to keep the condensation from leaking back into the house.

Double roof strapping prevents condensation from occurring in the first place, eliminating the need for the membrane.
Membrane-only Roof Protection: Pros and Cons
BETTER: A Roof with Single Strapping
Single strapping, a roofing installation method where a single layer of wood strapping is used to create an air gap between the roof deck and the roofing material, comes with both advantages and disadvantages. True, single wood strapping is better than no strapping at all; it allows for some ventilation, promoting better airflow that can help prevent moisture buildup and extend the roof's lifespan. It creates a wider gap between the existing roof deck and the metal roof than felt paper or membrane, but not enough to resolve condensation issues the way double strapping does.
Perhaps its greatest advantage is that it's cost-effective and relatively easy to install compared to double strapping; both material and labour are reduced, saving money.
However, in addition to reduced ventilation, its drawbacks include reduced load-carrying capacity, potentially limiting the types of roofing materials that can be used. Additionally, in high-wind areas, single strapping may not provide sufficient structural support, making it less suitable for regions prone to severe weather conditions. Also, single strapping does not allow leveling of the roof, ideal for correcting swells and swales.
Single Strapping: Good, but not Good Enough
BEST: A Roof with Double Strapping
A Comprehensive Solution with Double Roof Strapping
Double roof strapping solves all these problems by lowering dew points (due to its self-ventilation capabilities) and leveling the roof while making it stronger and more stable.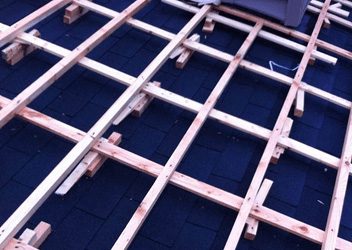 Double Roof Strapping is superior to single strapping or membranes because:
The Double Strapping Process
The 1×3 spruce battens are vertically attached to the existing roof with 3 ¼" framing nails that are "dovetailed" (nailed on angles) into the roof deck, most often through the existing shingles.
Dovetailing the nails into the roof deck increases the strength of the roofing system attached to the strapping because the angled nails are almost impossible to rip out of the roof deck; this is important during high winds.
2×2 spruce battens are nailed horizontally to the 1×3 battens also with 3 ¼" framing nails. Then the Hy-Grade steel roof shakes are nailed to the 2x2s with 2" "hot dipped" (galvanized) roofing nails. Since the nails and shakes attached are both made of galvanized steel, there is no chance of corrosion due to dissimilar metals. Again, both steel, both galvanized, no corrosion!
Energy Efficiency Benefits
Hy-Grade's double strapped steel roofing system helps remove hotter air from your attic space(s) due to its self-ventilation capabilities which lowers your energy bills in the summer. Along with proper attic insulation and ventilation, it can lower your heating bills in the winter too.
Study Findings: Energy Savings
A 2012 study prepared for the U. S. Department of Energy Buildings Technology Program and conducted at the Oak Ridge National Testing Laboratory in Oak Ridge, TN showed that "Above Sheathing Ventilation", created by double wood strapping, saves more than 30% in energy consumption when compared to direct-to-deck roof systems.
Read more about energy savings
The most surprising find; however, was that a black metal roof attached with AVS (double wood strapping) affords as much energy savings as a coloured "cool roof" direct-to-deck roof system with a solar reflectance of 0.25. This is because the convection air currents created with a black steel roof does as good a job removing/keeping heat from your attic spaces as a "cool roof" does.
Double strapping with wood is the only way to go!
If you're interested in seeing what a permanent Hy-Grade Steel Roof can do for your home, call us toll free at 1 (855) 494-7233.