Hy-Grade Steel vs. Aluminum Roofs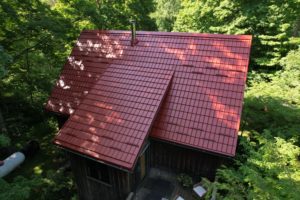 Canadians are tired of repeatedly replacing their roofing with asphalt shingles and it's no surprise that metal roofing is rapidly becoming most popular. Among the metal options, Hy-Grade's steel roofing system stands out for its strength, durability, performance and value, even among alternatives such as aluminum.
Steel is Stronger than Aluminum
The Hy-Grade steel roofing system is manufactured from 26 gauge galvanized steel covered with a PVC-based coating. Unlike many aluminum products, the Hy-Grade steel roof, with its proven and perfected strength and durability, is designed to be installed on a double wood strapping system that allows for leveling, and provides a solid foundation of securing the roofing system to your home. When thinking of aluminum, don't think of aluminum doors or fishing boats, think POP CANS, as aluminum roofs are not as strong as steel roofs. On top of this, they expand and contract at twice the rate of steel, stressing their fasteners and ultimately weakening them.
Metal Roof Installation Can Level Your Roof — Or Make It Worse!
When reroofing a home, irregularities can easily be seen when covered with an unstrapped roof. The older your home, the more pronounced these irregularities become. The Hy-Grade steel roofing system is installed over top of your current roof using this double wood strapping system. By installing 1×3 strapping vertically along the common rafters, the opportunity to level your roof is afforded eliminating swells and swales. This forms a level base for the 2 x 2 horizontal strapping and shakes to be installed. Many lighter weight aluminum roofs, which are applied directly to the deck, tend to amplify the unevenness of your roof.
The double wood strapping system of the Hy-Grade steel roofing system raises the steel shakes off of the deck. With air intakes through the system's starter strip, Hy-Grade's unique low profile roof vents and vents at the ridges allow for an increased airflow under the roofing system, reducing the possibility of moisture condensing on the underside of the roof. Further, the increased airflow has an additional benefit: making your home more efficient to heat and cool.
The channels of air traveling up the length of the roof will move air in and out of your attic with greater efficiency. The increased volume of air moving through your attic will reduce the amount of heat gain in the summer, and maintain a dryer space in winter—saving you money in heating and cooling costs, as well as long term home maintenance costs.
A Hy-Grade steel roofing system on your home will provide you with great value. Depending on the size and complexity of the roof on your home, a Hy-Grade steel roofing system can be approximately 2-3 times the price of an asphalt roof… initially. However, the Hy-Grade steel roofing system will have an average cost that is up to 50% lower over a lifetime.
If you're interested in seeing what a permanent Hy-Grade Steel Roof can do for your home, call and speak to us toll free at 1 (855) 494-7233 or fill out our online form here!